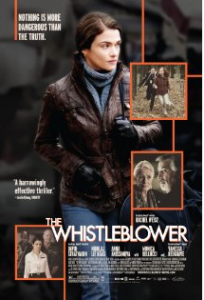 Every year on International Women's Day, the WBII holds a big event and the Initiative Awards Ceremony to celebrate opportunities and the success of women. The awards represent the key values of the WBII; Ambition, Social Innovation, and Networking/Collaboration. This year a new category was added (surprise, surprise)…The STRONG Award!
It was personally a tremendous honor for me to present the first ever STRONG award to Kathryn Bolkovac. Her courage and strength make her an absolute hero and aspirational role model for women. Kathryn Bolkovac is the author of the book, "The Whistleblower: Sex Trafficking, Military Contractors, and One Women's Fight for Justice" and her story is the inspiration for the movie "The Whistleblower", which portrays her courageous fight against sex trafficking in Bosnia and Herzegovina. Rachel Weiss plays her character in the movie.
Kathryn Bolkovac,  a Lincoln Nebraska police officer went to work in Bosnia on a Peacekeeping mission for a government contractor Dynacor, where she became aware of the involvement of military contractors and UN staff in sex trafficking crimes and cover up activities.  She had the courage to investigate these matters, continue to fight for these victims despite the discouragement and danger she faced in doing so.  Kathryn was demoted and eventually fired from her job, filed a wrongful termination suit against Dynacor and then went straight to the BBC with the findings of her investigation. She eventually won her case against Dynacor, although sadly with seemingly no negative impact on Dynacor's  standing as a 2 billion dollar revenue benefactor of US government contracts.  Kathryn demonstrated remarkable strength of character by refusing to agree to a gag order in exchange for an exorbitant settlement from Dynacor. Obviously her story would have never been told otherwise.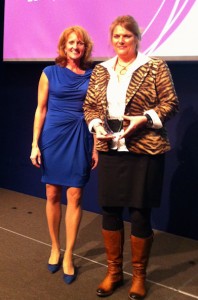 Earlier on the day of our event, Kathryn Bolkovac was the speaker at the United Nations's International Criminal Tribunal for the former Yugoslavia (ICTY) IWD event "Women Who Inspire". Kathryn's  courage in speaking out has shaped new United Nations policies to tackle sexual exploitation and abuse and inspired the UN to increase the commitment to zero tolerance of these crimes.
She came to our event as a guest of the ICTY rather anonymously with her Dutch husband Jan and was completely surprised to be called on stage to accept this award. What a privilege it was for me to meet this remarkable woman and an absolute thrill to present Kathryn Bolkovac with the STRONG award. Women absolutely need more STRONG role models! Kathryn's strength of character and actions make her the ultimate example of strength that we can ALL aspire too.
To hear more about the story directly from this extraordinary woman, you can click hear to watch a few minutes of a video interview with the Guardian.