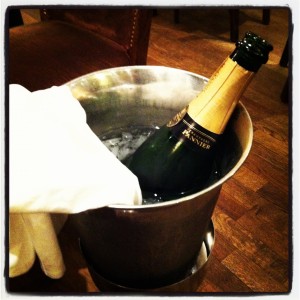 Borrowing the words of Robin Leach, but passing on the caviar this time, I'm just back from a long weekend in the Champagne region of France, and here I am again on my favorite topic of what to do "the day after".  No, I don't have a special Champagne hangover remedy to suggest and the way champagne flows freely there, directly at the source, the "day after" is more like withdrawal than simply a hangover. They might even serve McBubbly at the local McDonalds, though I didn't check;-)
My love of champagne* is no secret and in the spirit of full disclosure, I still drink Champagne about once a week, but definitely less volume than before! Please take this as a bright sparkling flute of hope that you don't have to give up EVERYTHING that you enjoy forever, but you do have to be selective.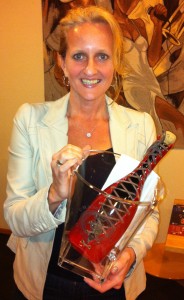 Maybe PBR or Belgian beer is your thing? (La Chouffe is my fav.) Uh oh, that reminds me that next up is a weekend in Brugge with Belgian friends, and these are fun friends, a couple of whom I haven't seen in over a year. This means trouble is brewing on the horizon and yikes; only a few days away!
Here in Holland, we have  a lot of national holidays that create long weekends in May; Queen's Day 3 weeks ago, Ascension Day last Thursday, and Pentecost on Monday. You absolutely have to make the most of these holidays, because the next official day off is, you won't believe this…Christmas Day.  If you live in the U.S.; Mother's Day, Graduation parties, BBQs and Memorial Day might be colliding with your dream of slimming down to strut your stuff at swimming pools and beach clubs opening across the country this weekend?
Sound familiar? These "special occasions" strung together form one continuous clump of temptation that screams, "this is just not a good time to make changes, start eating differently, or stick to your program if you've already started one." This time of year can seem like a lost cause.
So here I am straddling two special "party weekends", and my daughter and I both celebrate our birthdays next week too! Damn, cake! What to do? First of all, what not to do…don't give up and cave in completely. Don't throw your hands in the air (unless you are doing a few rounds of surrenders in your tabata today)!
These 5 Weight Loss Tips you will hear from me repeatedly, because repeating these 5 things leads to weight loss success!
1. Don't fall into the trap of thinking oh well, I've already had _____, I might as well go ahead and have this_____ too, since I've already blown it! Take it one day and one meal at a time! So you are at 80% instead of 100% for a day, don't go digging a deeper hole- think damage control!
2. Raise the bar on what's worth it to you! Save your indulgences for something special! Everyone is different, but the key here is that you stay in control and eat something "out of the ordinary" because you choose to, hopefully because it is extraordinary, not because you have no other choice, which is only possible if you follow #3!!!
3. Be prepared! You are not a victim of your circumstances. Always have something with you. (I never leave home without almonds.) Being prepared equals independence too- don't be a pain in the ass and expect everyone in your travel party to search for food that meets your specific requirements at the exact times you "need" to eat it! I veto pizza places, but that's about it.
4. Get right back to it! You don't need to have gastric surgery to prevent yourself from eating too much crap. Your healthy habits once in place will serve you well when you get off track too! The good news is you'll feel like shit and your body will be eager to get back to feeling great! Your body can bounce back quickly from one indulgent day. The "I'll start again tomorrow" story gets you nowhere, especially when tomorrow becomes, Monday, next week, ______, etc.  So don't delay!
5. Stay active and be creative to squeeze in workouts. I definitely wish I would've spent more time like this…(below) and less time tasting and stocking up on the "finished product".
NO, it's not easy. You're on vacation, you want to relax and have fun. Over the next couple of weeks, I'm going to post a few stories from my own experiences trying to lose weight and stay fit while on vacation, traveling, and generally being on the go; including how the hell did I lose weight while in Rome for a week?
Are you in the midst of a summer slim down or contemplating starting? I'd love to hear your fitness travel tips & tricks, experiences, confessions and frustrations too!
*Just a note that you can buy excellent champagne from small producers, like our favorite Janisson- Barandon for the same price as 2 beers at the ballpark!  (Would never want you to think I'm too extravagant;-)