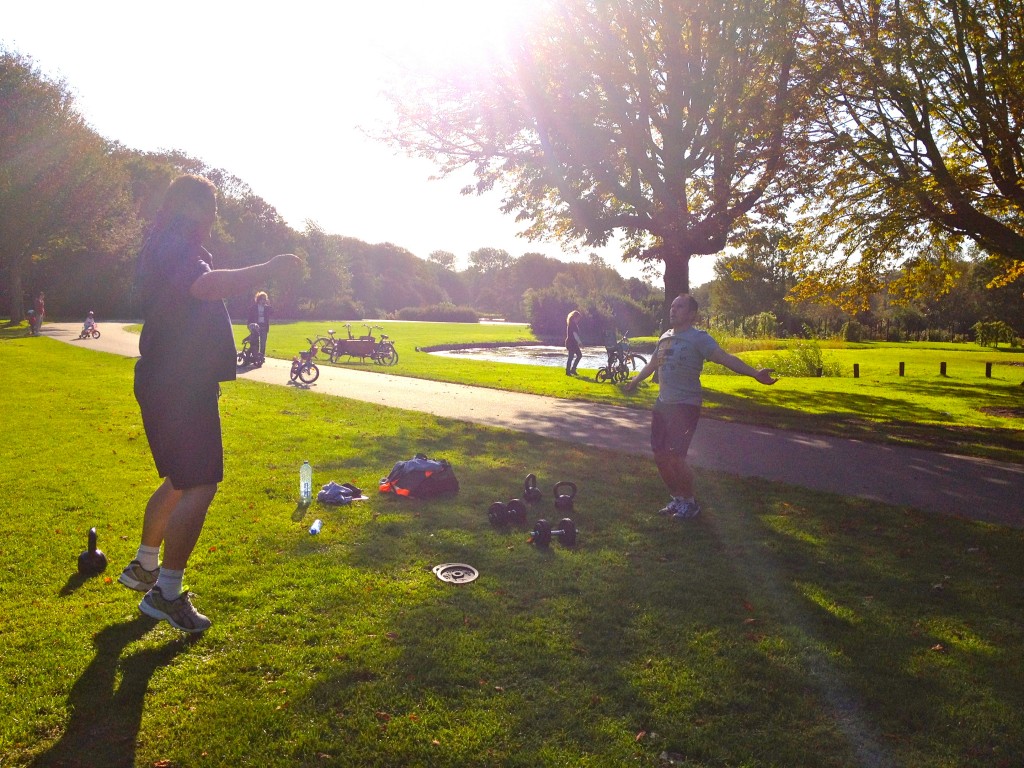 In case you were curious, I have not yet received any serious inquiries about booking the Yacht "Boatcamp" workout I mentioned (here)…yet! However, the only guy on our Tuscany Trip who happens to live in Europe, and luckily here in The Hague, has persuaded me to start offering Torture/Bootcamp style training immediately. He actually couldn't wait and started today, but we will officially kick off this week at Westbroek Park on Tuesday & Thursday mornings at 8:45, Sundays at 10.00 am.
The training will be an intense, action-packed hour long workout focused exclusively on the most effective strength and conditioning exercises to help you shed fat fast! This small group fitness option is ideal for those of you who have either been thinking that my undivided attention might be too much to bear, or that my gym is not convenient for you. Obviously this is also a more affordable alternative to one on one training, yet you'll still get all the love and kick ass support from me that you need to succeed!!
Why is October 1st  the perfect time to start? Well the leaves are falling from the trees and it would be so easy to slide into your winter hibernation mode and cuddle up in front of a crackling fire and get cosy with all your favorite hearty fall comfort foods. And how hard is it to hide a few extra fat rolls under a big wooly sweater anyway?  And swimsuit seasons is still a safe 240 days away, right?
But don't go there! Don't let yourself go! No, I'll be standing there in the park waiting for you rain or shine. Let's do this together!!
Will these workouts three times a week really change your life? Yes, it could be the start of something real and beautiful, but you will need to exercise on the days in between too. Don't worry, I will show you a series of exercises that you'll want to do every day…until you love them!
The pricing is a strippenkart of 10 sessions for 150 euro. Your second strippenkart will be discounted to 130 euro. The fall fitness card is valid until Dec. 15.
The Fall Fitness Training is accessible to ALL fitness levels. If you are really nervous about training with weights for the first time, or hesitant for some other reason, it is possible to schedule a one on one session with me to teach you some of the exercises and positions before your first group training.  As with any exercise, you should consult your doctor before starting to exercise. Body fat assessment and nutrition guide are also available for Fall Fitness Participants at a special price.
I'm excited! Are you in? Great, so bundle up and get your ass out here!!  Click to register now!!