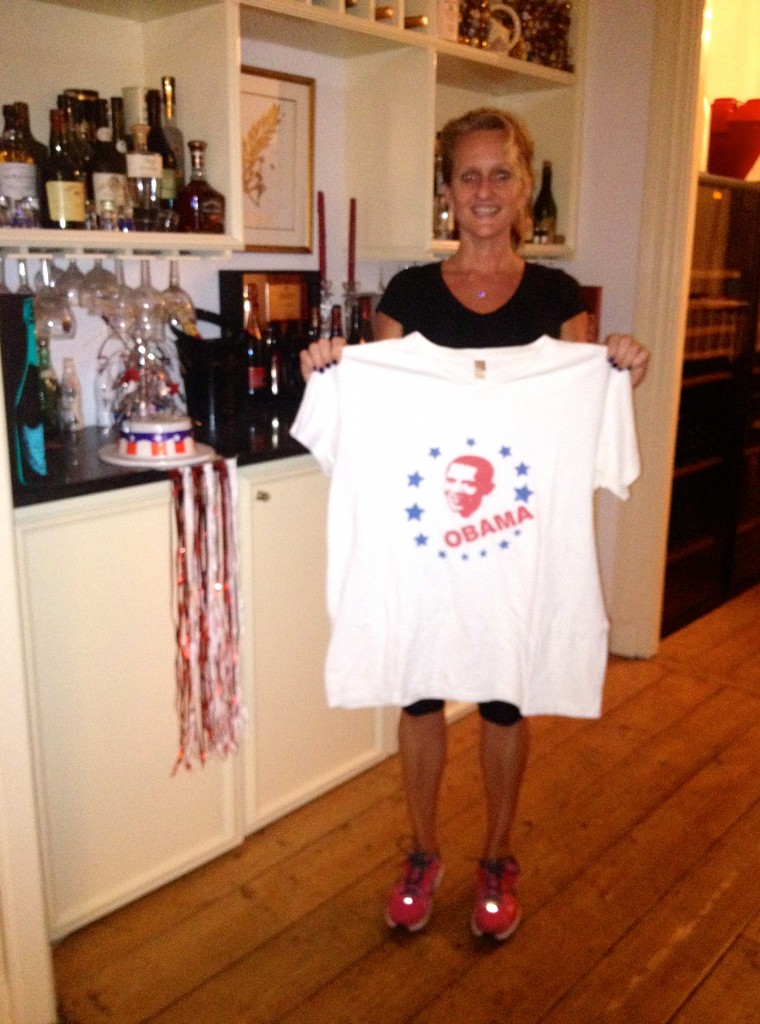 Having avoided political postings completely, I hate to go there now after the election is over, but I can't resist sharing this photo. There are so few items left in my closet from "before" that this doesn't happen very often any more. On election morning, I packed my gym bag for later in the day and was walking out the door when I remembered to run up and grab my Obama T-shirt from the last election. I thought it would be fun to wear it at the gym, as I am the only token American. What a shock!! Enormous!! This was not a unisex XL kind of t-shirt, either. It is a women's fitted Tee. Luckily I found this photo below to demonstrate that I did indeed fill out this wide body tee.
Regardless of which candidate you supported, since the U.S. election only comes around every four years, it is a great opportunity to take a moment and check in with yourself. There have been a lot of comparisons to four years ago on the health of the Nation's economy and the outlook for the future of the US. How do your own health and wellbeing compare to four years ago? What's the outlook for your own future?
Hope, Change, Progress- If you dislike Obama, you might be politically allergic to these words, but please take them to heart for your own personal challenge. Change is hard! It isn't painless, but it is so worth it.
Here's an article about how Spelman University in Atlanta is putting their money where their mouth is to make an impact on the lifelong wellbeing, health & fitness of their students, ALL their students. This is The Change We Need!