Suzy's Story
Short & sweet is not my specialty, but here is a relatively short, very current version of my story…with a taste of sweet victory!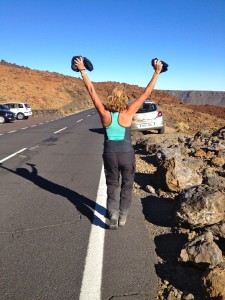 Would you believe it's only been 4 1/2 months since I started the Lab Gym's Laser Weight Loss program?  I still pinch myself and thank you guys at The Lab Gym every day for helping me do what I couldn't do on my own. My long-term goal was to lose 35 pounds, but I achieved it in only 2 months and there's been no stopping me since! At the 3 month mark I was down 46 pounds and had gone from wearing a size Large/XL to a size Small. Now I am down 55 pounds and stronger every day!
Seeing these astounding and speedy results has obviously been very rewarding and motivating, but this week on vacation in the Canary Islands, I experienced results of a different kind. I thought the breaking news from this trip would be that I wore a bikini for the first time in 9 years. (I am a 41 year old mother of 2, absolutely sure my bikini days were behind me, forever!)
But there's more…on the last day of the trip we climbed Mount Teide and all the daily squats, lunges, leg extensions, walk outs, calf raises, and pushing 400 pounds on the leg press paid off in a way you can't measure on a scale.  My newly strong body moved up the mountain, almost effortlessly. I was prepared to suffer through it, I've done that before, but I TOTALLY ENJOYED IT and could even breathe easily as we climbed in altitude, (from all the HIT cardio training at The Lab Gym). The feeling was amazing and so powerful!
Although you can't see the big smile on my face in the photo, I am dancing, sometimes sprinting and always smiling the entire way back to the car; a short 3km jaunt, after coming down from the mountain. Even more amazing, considering I spent most of the first half of 2011 unable to walk at all due to my ankle injuries and extensive surgery. I came to The Lab Gym with a kind of desperate hope that they could somehow work around my ankle problems and help me get fit; but I never dreamed of being this fit, ever!
Huge thanks to Justin and to my trainer at The Lab, Shawn Dunn, for putting me on this path. I'm loving life every day and living it full on!
December 2011