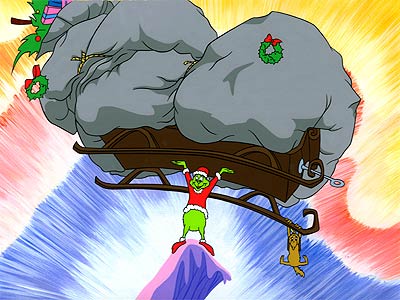 You might hate me for saying this, but my number one fitness tip of the season is in fact…Be the Grinch! Or at least, "Let the Grinch steal Christmas, but not your workouts and not the results you've worked so hard to achieve." I am no Scrooge, in fact I love Christmas so much that my maiden name could be Griswald. Every year when the two guys at our neighborhood tree lot see me approaching, they scatter! "Uh oh, here come's the lady looking for the perfect tree."
But let's face it, Christmas has stretched out into an entire season, one overwrought with obligations and temptations! You've been doing so well until now; working out, eating well, feeling fabulous; you simply can not afford a distraction of this magnitude! Just look what the pressure of Christmas does to Santa. 'Tis the season of overcommitment and stressing ourselves out! The solution for survival is simple… I challenge you to "temporarily" cancel all of your Christmas traditions, just this year. Oh, you say you are not willing to do this, not even for just this one year? Hmm…yes, well I knew it wouldn't be that easy to convince you. So let's agree to put them all up for re-evaluation. After all, traditions are by definition, things we do just because we've always done them.
Christmas cookies have always been my thing; baking, gifting, and devouring. They don't even sell chocolate chips or many other necessary ingredients in shops here in Holland, but that has never stopped me from importing and improvising. I bake hundreds of Christmas cookies every year, my traditional American Christmas cookies are very exotic here, highly anticipated and well appreciated. Correction: I used to bake. Last year- no cookies. None. No way was I going to let Christmas cookies derail my hard work and rapid results! And I didn't stop there. I skipped or pared down most of our family Christmas traditions last year, honestly as many as I could get away with, especially in the pre-season. So Christmas started for us when we arrived in St. Louis, just 3 days before Christmas. "Shorten the season" is a great tip for damage control!
While in St. Louis I went for a post-workout coffee with the woman who ultimately became Lab Rat of the Year. Success is in the details, so whenever I get the chance, I pepper weight loss winners with questions about very specific things they do to find common denominators and best practices to share, like this cocktail party edition. At that time Sharon had already lost over 100 pounds. We had gotten to know each other during our mutual 6.30 am daily training time at The Lab Gym over the summer. Sharon is an outgoing and warm person who lights up the room with her energy and smile. During our animated story swapping session over coffee, we were both surprised to discover something that we had in common, (in addition to the fact that we have sons of the same age with the same uncommon name).
I'll to go so far as to say that this one little thing that Sharon and I discovered we had in common represents the secret to our success; over the holidays and always. So what's the big secret?… No tree! The boxes of Christmas decorations lovingly acquired throughout the years in our respective homes remained in their storage boxes last Christmas. What's the big deal? Laser focus is the big deal. In order to succeed you have to shuffle your priorities. You can't just keep doing all the things you used to do and expect change to happen and the results to just appear. When you totally focus on making changes to achieve your goal, you will have to put those traditions on the table (chopping block) along with all the other "Must Do" things that you are busy with and think are non-negotiable. Before you start calling the two of us selfish, scroogey bitches or contacting the local child protective services bureau, due to the blatant neglect of our children; let me assure you that we both made sure that Christmas was very festive for them in other ways and in both cases was celebrated in the fancifully decorated homes of family members.
If you are not an over the top celebrator of Christmas, this might not seem like a big deal to you, but for Sharon and me, the big amount of energy we normally spend on Christmas decorating was already committed elsewhere. The good news is that I'm not suggesting that you be the Grinch forever. This weekend I caved. We now have a Christmas tree, not the tallest and most perfect tree of years' past; instead we selected a humble 7 footer that can be extracted from the house after Christmas without the use of a crane. But that's where I draw the line! The aroma of cinnamon, spice and everything nice wafting around our house will only come from a fragrant Christmas candle, not the oven. Sorry friends, neighbors and colleagues, no Christmas cookies again this year!